Canadian neuroscientists join forces with computer scientists to treat children with brain disorders
$500,000 joint research study funded by NeuroDevNet and GRAND.
Posted by GRAND NCE, December 2, 2010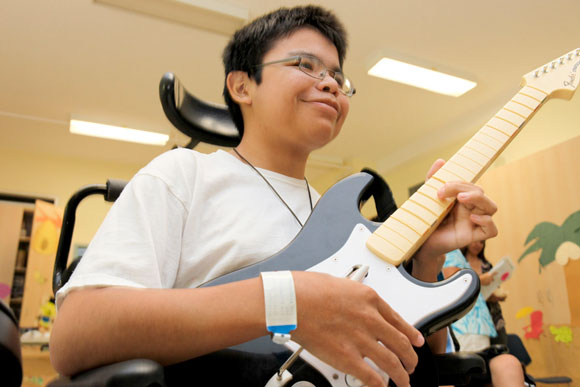 Guitar hero at Sunny Hill Health Centre for Children, Vancouver, BC. Photo courtesy of NeuroDevNet.
Vancouver, BC (December 7, 2010): NeuroDevNet and GRAND commit $500,000 over two years to fund brain research for children in Canada today. Researchers from the two Networks of Centres of Excellence will explore how video game technologies can diagnose and treat children with brain disorders such as cerebral palsy and fetal alcohol spectrum disorder (FASD).
NeuroDevNet and GRAND are enthusiastic about this new joint partnership, which has enormous potential for collaboration between the neuroscience and computer science sectors. Working in multidisciplinary teams, researchers will focus on areas that can lead to significant improvements in diagnostics and therapeutics for children with neurodevelopmental disorders.
The funds will support a set of projects that use gaming platforms to support children with developmental disorders. An original platform will be used to build motor skills for children with FASD. Researchers will also explore how exercise video games increase fitness and social interaction for teens with cerebral palsy.
"These projects demonstrate the unique and under-explored synergy between neuroscience and computer science," explained Kellogg Booth, Scientific Director, GRAND. "We are excited about using digital media technology in novel ways. It is all the more rewarding when those advances can lead to benefits in the lives of children."
"We are enthusiastic about applying video games to neuroscience research," said Daniel Goldowitz, Scientific Director, NeuroDevNet. "We will not only expand our understanding of brain development, but also give children tools to improve their own learning, memory, attention, and well-being."
GRAND researchers Drs. Bruce Gooch (University of Victoria); Regan Mandryk (University of Saskatchewan); and T.C. Nicholas Graham (Queen's University) will work with NeuroDevNet researchers Drs. Darcy Fehlings (Holland Bloorview Kids Rehabilitation Hospital); Chris Bertram (University of the Fraser Valley); Brian Christie (University of Victoria); and Kimberly Kerns (University of Victoria).
The co-funded projects emerged from a joint workshop, "When Virtual Meets Reality", held earlier this year. The one-day session clearly demonstrated how the two seemingly disparate research areas could combine their strengths and contribute to advances in understanding children's neurological development. The unique collaboration is a great example of two Networks of Centres of Excellence working together towards a common goal.
NeuroDevNet and GRAND are funded by the Networks of Centres of Excellence (NCE), a program of the federal government to advance science and technology.
NeuroDevNet NCE is the first trans-Canada initiative dedicated to studying children's brain development from both basic and clinical perspectives. The vision of NeuroDevNet researchers – whose expertise ranges from child development to brain imaging, genetics and developmental biology – is to accelerate the pace of understanding the causes of neurological deficits, with an initial focus on autism spectrum disorder, fetal alcohol spectrum disorder and cerebral palsy. neurodevnet.ca
GRAND NCE is a research network and commercialization engine whose goal is to address complex issues in digital media and transform multidisciplinary research into user-centred solutions. GRAND explores the use and application of digital media in a variety of settings including entertainment, healthcare, education, environmental sustainability and public policy. Through technology solutions, training the next generation of talent and encouraging a robust policy environment, GRAND plays a pivotal role in supporting Canada's National Digital Economy Strategy.
- 30 -
Contact
Jennifer Parisi

KT and Communications Coordinator

NeuroDevNet

Tel: 604-875-2424 ext.5591

jparisi@neurodevnet.ca This e-mail address is being protected from spambots. You need JavaScript enabled to view it

Grace Battiston

Director, Communications

GRAND

Tel: 778 370 1013

This e-mail address is being protected from spambots. You need JavaScript enabled to view it